Into The Adventure!!! Spanish games in the AdventureJam
On the last forthnight there was a very interesting Game Jam going on, and no, I'm not talking about Ludum Dare 32 (that will come later on!). It was the AdventureJam (@AdventureJam), created by Cassie Benter (@FenderBenter) and Stacy Davidson (@StacyDavidson) and hosted by Gamejolt, and its target was the creation of adventure games (however the developer understood what "adventure" is) in two weeks.
I'm going to try give an account of the Spanish games presented in those two game jams, please keep in mind sometimes it is hard to guess the nationality of the developer so I might miss some games, if I do so, please let me know and I'll add them later on.
Turing Adventure
Turing Adventure is a "escape the room" adventure of sorts. On it you have to talk your way out of your robotic prison. It takes an old text adventure approach of allowing you to write whatever you want instead of giving you pre-generated options, but merges it with the modern wonders of the internet using a centralised database to generate the answers you receive, making it a de-facto always-online game. If you later on send your conversational log to the devs it will help the robot intelligence grow and work better with future players.
It is definitely ambitious and experimental, something that suits both the jam spirit and the dev studio intentions. Corta Studios is an experimental games studio based in Seville and This game is a graphic based version for the AdventureJam of their previous multiplayer text game Turing planet. Play it here.
Pain in Hell's Creek
Pain in Hell's creek is a love letter to the 80s horror movies in which the player takes the role of the maniac on a story told by an old man to a group of springbreakers who are (obviously) partying in an old cabin. What happen's next? we'll you better play it yourself!
The game is quite buggy (or it was for me) but the developers PixelFan went the extra mile by making the game multi-lang with voiceovers both in Spanish and English. You can try it here.
Speak of the Cloud
Speak of the cloud is a prototype created by the Alicante based studio Mechanic Moon. It is a classic point-and-click adventure with a quirky setting. On it you are Fenix, a young kid who needs to get his grandad out of his flat to find a safer place since there is an incoming alien invasion.
The game is quite buggy (there is a list of known issues, and as the clever boy that I am I went straight and did the first one on the list even after reading it) and its English is a very muddy one but there is potential on the setting, and as Mechanic Moon say, this is only a very early prototype. You can play the AdventureJam version here and a less buggy (but out of competition) version here.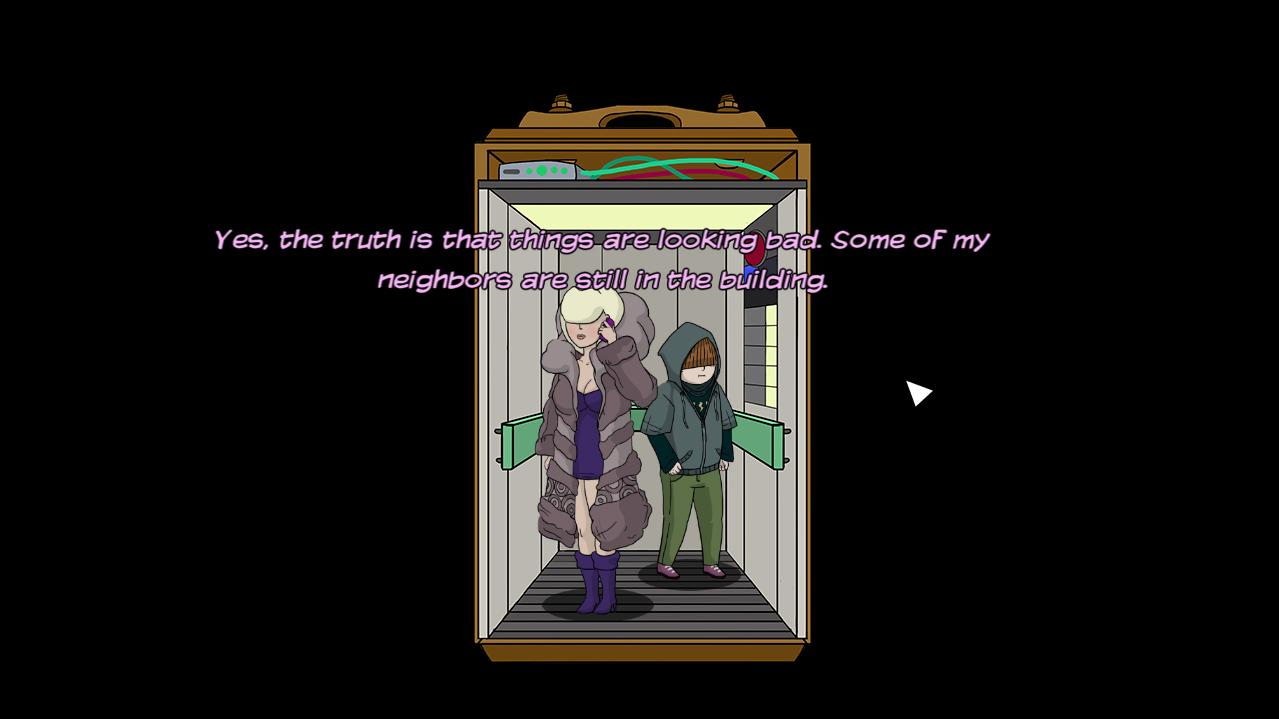 The Night Henry Allen Died
Done by Ludipe (that is actually Luis Díaz Peralta @Ludipe, Rubén Calles @Oluwagembi and Celler Gütirrez @celer_gu), this is a mistery adventure with a nice isometric view and a classic starting point. Someone has died, can you uncover the misteries behind such tragedy?. Plenty of victorian flavour and recognisable archetypes, is a simple yet very enticing proposal with a very pretty art style. It is also more conceptually complex than it sounds. And there is a lot of things to interact with. You can play it here.
Those are the playable game that were finished on time. Out of time and still in development there are Moonfall by Robert Aguilar (@RobertWiggin), Another Dawn by Edu Verz (@verz_edu) and Rubedo by Pedro Pérez (@Rzial). I would also like to do a shootout to a few Latin American games I found there:  Vuelve Pronto (come back soon) by Ignacio Del Cano (@idelcano_com) and White Stone by CobCris (@cobcris).
Remember there are still 25 days to vote for your favourites. play them, rate them, comment them and connect with their creators!
And I will be back soon with an article about the Spanish games in the Ludum Dare 32.
– Sam –